2018 is a very special year for Golden Retrievers. It is the 150 year anniversary of the Breed.
The Golden Retriever Club wish to celebrate this anniversary with its members and all Golden Retriever Enthusiasts with Special events.
Below is the list of events hoped to be of interest to all, and will be added to as more information is available.
MONDAY 8th JANUARY 2018, Novice Trial, Teffont Magna, Wiltshire
SUNDAY 14TH JANUARY 2018, BREED APPRECIATION DAY, HELD ON BEHALF OF THE GOLDEN RETRIEVER BREED AND BREED COUNCIL FOR THE KENNEL CLUB JCF PILOT SCHEME This is one of the new seminars for the new Judges education system coming into operation in 2019. Morning talk on the Golden Retriever Breed Standard, followed by Multiple Choice Exam in the afternoon on the Kennel Club Breed Standard. BADs will be a mandatory requirement for all judges, for progression from Level 1 to Level 2 and 'all rounders' who wish to judge Golden Retrievers from the new Level 2. Click on the diamond to download the application form

      BREED APPRECIATION DAY APPLICATION FORM 14TH. JANUARY 2017
SUNDAY 25TH MARCH 2018,  AGM, 2pm. Meeting Room A, The Kennel Club Building, Stoneleigh Park, Coventry, Warks CV8 2LZ
Sunday 13th May 2018 Health Seminar @ The Kennel Club Building.
Speakers: Owen Davies MRCVS Medical Oncologist – speaking on mass cell tumours, haemangiosarcomas, & other malignancies that Golden Retrievers are predisposed to. Any preferred points for discussion or specific questions can be sent in advance. There will also be time for a Q&A session
Emma McGrath. Associate Solicitor – Talking on Dogs & the Law. Q&A time to follow.
Presentation by Bob Gore MRCVS – on First Aid, at home & in the field. Q&A time to follow.
 CLICK HERE FOR Health Seminar Application Form
Saturday & Sunday 19th & 20th May 2018 Working Weekend.
 INTERNATIONAL WORKING TESTS (for Golden Retrievers only) at The Ilchester Estates, Dorset by kind invitation of The Hon. Mrs Charlotte Townshend. Mrs Townshend is the great-grandaughter of the 5th Earl of Ilchester who himself was the owner of Ada the originator of the Ilchester line of 'yellow retrievers'.  Ada was given to Lord Ilchester by his uncle Lord Tweedmouth and her grave can be seen in the grounds of Melbury House.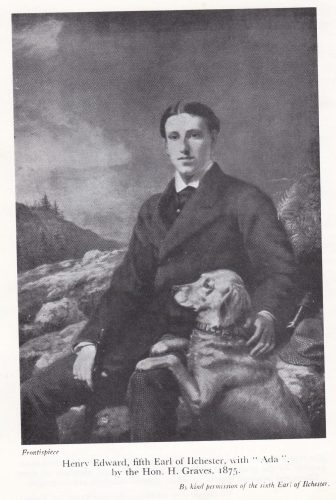 Saturday 19th  Abbotsbury Estate:  Puppy, Novice, Novice dog/novice handler, Veteran and Day 1 of Open tests
Saturday evening Holway Farms (By Kind Invitation of Robert Atkinson, Home of the well known Holway Goldens): An evening 'Mingling/get-together', including a small exhibition of the history of the breed. Camping/caravaning field available.
Sunday 20th Melbury Estate:  Day 2 of Open Tests, Fun Events for Spectators, and supervised visits to the Grave of Ada.
Please put these important dates in your diary.  Full details of the event, schedule and entry forms will be available on the website February 2018.  Click on the link below for the flyer.
CLICK HERE: 150 years celebration working weekend
Sunday 22nd. July 2018 Championship Show
At the Kennel Club Building, Stoneleigh Park, Coventry, Warks. CV8 2LZ
Judges: Dogs: Ms. K. Ellis (Tenfield), Bitches: Mrs. S. Almey (Arbutus), Referee & Progeny: Mrs. V. Jones (Ninell).
Sunday 9th. December 2018 Special Christmas/Anniversary Open Show.
at The Kennel Club Building, Stoneleigh Park, Coventry, Warks. CV8 2LZ
Breed Judge: Mrs. L. Cole (Rooksbury), Special Awards Classes: Ms. A. Douthwaite (Gracewood).