This page is to show some of the Fantastic Achievements that have been done by our members and their Goldens.
At the show gundog working certificate/working introduction day august 2022 our members worked hard with the instructors and managed to get their dogs to swim and retriever. Some even retrieving cold game. Our lovely breed was developed as a gundog, and it was brilliant to see novice handlers learning to enjoy their dogs natural instinct to retrieve.
It was also excellent to hear our hosts/trainer comments on the fantastic temperament of all involved (human and dogs!)
Here is a slide show to show a flavour of the day >>>>>>>>>
Past President, Mrs Sue Almey writes "We have one of the most versatile breeds in the dog world, hence their use as Guide dogs, Assistance dogs, Therapy dogs, Search & Rescue dogs & sometimes Drug search dogs to name but a few! They also excel in Obedience & sometimes Agility . So it's refreshing to hear of outstanding achievements in any form. We have previously featured Assistance dogs in our magazine & also some Obedience honours in our Year Book. We have mentioned their outstanding work in the USA during 9/11 too but no doubt there are other great acclaims that we have yet to hear about. So in featuring this new part of our web site we would welcome other outstanding achievements to share.
The Golden Retriever Club is very proud of Member Lyndsey Uglow and her Golden Retriever Therapy Dog Leo, who is part of the SCH Therapy Dogs team. In the article below we record the amazing work of therapy dogs & in particular a group in the Southampton area that was high-lighted at Crufts this year (2020). As we write this we are in the turmoil of the corona virus crisis. However, Lyndsey Uglow & her helpers are still supporting people in need via social media & especially some of the more complicated patients by canine videos & images. They are sharing their new programme called "Golden Hugs" worldwide across social media to generate fun during lockdown!" (see below).
Kennel Club Friends For Life Winner
Lyndsey and Leo
Leo (Golden Retriever) and Lyndsey Uglow from Southampton, Hants who won the Friends for Life Final on the fourth day of Crufts 2020. Pictured with James Middleton and Judge Rev. Bill King.


20200308 Copyright Flick.digital
Free for editorial use image, please credit: Flick.digital
Crufts is the world's greatest dog show and this year saw more than 21,000 healthy, happy dogs competing for the coveted 'Best in Show' title as well as taking part in the many other competitions that take place at the show, from Agility and Flyball to the hero dog competition Eukanuba Friends for Life and Scruffts Family Crossbreed of the Year. Crufts 2020 ran from the 5th to the 8th March at the NEC, Birmingham.
How it All Started: Interview with The Kennel Club Crufts Friends for Life 2020 Winner, Lyndsey Uglow
Have you always had a Golden Retriever?
No, when I was a child we had a Corgi, but two of my friends had Golden Retrievers and I knew one day I would have one or two! It took until I was 36 to own my first, Monty, and he was followed four years later by Totty.
What inspired you to become a 'Pets as Therapy' volunteer?
In 2008, our youngest son Ollie was diagnosed with Acute Myeloid Leukaemia and spent almost six months in hospital. We spent 3-4 days at home every month waiting for his blood counts to recover before starting the next course of chemotherapy. Ollie loved being at home with the dogs and it was so hard for him when he had to return to hospital and was unable to see them. Monty and Totty were the glue that kept our family together….one parent was at home with our eldest son every night and the other was at the hospital with Ollie. In the dark hours, when I was at home unable to sleep, it was the dogs that I turned to for comfort. Like every grateful parent I wanted to give something back. Initially, this took the form of fundraising but, once Ollie had received the all clear three years later, I wanted to do something practical that did not require constant requests for money!
How did you get started?
In 2012, Monty and Totty passed their assessments to join the Pets as Therapy. We started visiting local care homes and had some fabulous responses from patients with dementia. Monty was a particular favourite of a lady who was convinced I was his dog walker and he was her dog! He did look very like the Golden Retriever in a black and white picture on her shelf, but there were at least 35 years between the image and the current day. Nevertheless, our visits brought her many smiles and the golden memories flooded back for her.
Soon after the dogs qualified, I joined the volunteer service at Southampton Hospital and it was not long before I was splitting my time between the care homes and the hospital. Initially we visited adult wards but it soon became apparent that the dogs were 'naturals' with children. After being shadowed by one of the matrons and the voluntary services manager at the time, they asked me to focus on visiting the children. Over time, having been seen on some of the more general wards, we were invited into the Children's Oncology ward where Ollie had been treated. Monty was the first dog to be allowed into Oncology and I knew then this had the potential to change both my life and that of many others. One of the first patients he made a real difference to was a girl called Alice. Her parents were there to see us awarded the Friends for Life trophy at Crufts. This made our day even more special and rewarding, albeit quite emotional.
How did Leo get started?
Thankfully, as my hobby developed, first Jessie and then Leo joined our family. They too became PAT dogs and, when the time came to retire Monty, they took over his role. The girls were great but they often preferred to be 'speed daters' and not all of our patients wanted a simple meet and greet! Leo was like Monty, he preferred to linger if he sensed the patient wanted him around. His 'laid back Leo' mentality was ideally suited to those patients who needed more than just a hello. He became a firm favourite with many of the most poorly patients, including one young adult whom we only met when she entered her palliative care phase. On her 'bucket list' was the fact that she wanted to hold a Golden Retriever puppy! As Jessie was soon to have a litter, we were so happy to be able to grant this wish. Three weeks after seeing Jessie's newborn pups that young lady became our first angel patient but, during her final weeks, she and her family visited us at least a couple of times a week….and her parents continue to do so as they feel close to her when they see the dogs, particularly Leo.
Was there a lightbulb moment that sparked your interest to develop what you do further?
Yes, there was. On one occasion in 2015, I was on the wards with Leo at the children's hospital when a matron from paediatric intensive care asked me to go with her to visit a child who was paralysed. He was 18 months old, his parents were not with him as they had gone to get his siblings and he was crying. I introduced myself, placed Leo's front paws beside him and he stopped crying and smiled. The team
observed his vital signs changed for the better on the monitors and later that day the matron tweeted to thank me. I knew then there had to be something more to what we were doing. I went home, scoured the internet, found some books on the subject and started reading!
How did it go from general PAT visiting to the Animal Assisted Intervention service you have today?
Thankfully in 2016 one of my friends and her Golden Retrievers came to volunteer alongside me. We became a team and this enabled us to see many more patients every week. We were being asked to visit more complex patients, including some with severe injuries, and help them with rehabilitation. This was rewarding work and we were constantly trying to come up with new ideas. I wanted to develop things further. The more I read, the more I knew that I had to study to see how we could go forward.
After much research, I enrolled in a course at the Institute for Human Animal Connection at the University of Denver. That gave me even more to read, 355 contact hours with the university, three trips to the USA and eventually, a Certificate in Animal Assisted Therapy, Activities and Learning. It also gave me the opportunity to secure observational visits with therapy dog handlers in three other hospitals and a day with one of the leading Animal Assisted Intervention trainers in the USA, who continues to be a great inspiration to me.
In 2017, having completed this course and recruited another two friends, we became a team of six Golden Retrievers and four handlers. We were invited to start working within the Youth and Play Services team at the hospital. We started to receive more direct referrals from other healthcare professionals including consultant anesthetists, physiotherapists, occupational and speech therapists, child psychologists and many more. Working alongside the play specialists we found ourselves trying to create solutions for individual patients. All of this new work was directly governed by our manager within the hospital rather than voluntary services, so we were also required to document all of our visits. A time- consuming task, but invaluable as we were able to provide data that could prove our 'golden' moments were making a real difference. Between us over the 12 month period, we had recorded seeing 2500 patients.
That same year as our Animal Assisted Intervention started to be recognised, the Royal College of Nursing issued a survey to find out how many healthcare environments were working with animals. Many of the staff at Southampton Children's Hospital reported upon what we were doing and I was then invited to be one of the authors of the Royal College of Nursing Working with Dogs in Healthcare settings, which was originally published in 2018 and has recently been revised to incorporate an addendum for high risk areas including intensive care and oncology.
2019 saw our twelve month outcome survey completed and the resulting article 'The Benefits of an Animal Assisted Intervention service to patients and staff at a children's hospital' was published in the British Journal of Nursing.
Finally, just before the end of 2019 I was contacted by the Kennel Club to say that the paediatric intensive care team had nominated us for the Friends for Life award. They cited a number of patients we had worked with including one particular patient following brain surgery, who was part of the foster care services, as a particular example of the work we were doing. Other patients were cited in the nomination and ultimately the video was created by the Kennel Club. In it Leo was being stroked by the sibling of a baby whose parents we had been supporting since their baby was admitted at only three weeks of age. Also featured was Oscar, a young boy whom we have seen through from paralysis at the age of 3 years to rehab and ultimately, back at school now he is 6. We have even have been to do an assembly there to show his friends what we do.
As I said to the Kennel Club representative who contacted me, I am extremely proud to accept this nomination but it is on behalf of the whole team because one dog and one woman could not do it alone.
I am both honoured that Leo and I were nominated and privileged to have been able to develop a team of volunteers with Golden Retrievers. It is lovely to know we have made such a difference to more than 10,000 patients since I started in 2012.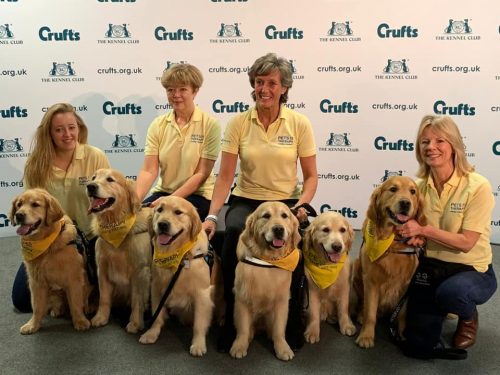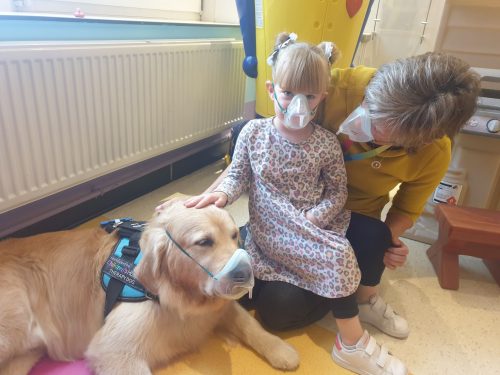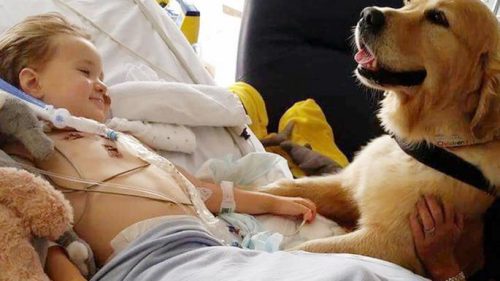 Animal-assisted therapy dog Leo goes to the operating theatre
Animal-assisted therapy dog Leo goes to
X-ray
LAUNCHED ON FACEBOOK 27/03/2020
Have one of our #goldenhugsforall. Whether you are on the wards or at home you can join in.
Our friend Daniel Howarth has done a 'pawtrait' of all of us and we have created this colouring sheet and message page that you can download.
On page one feel free to decorate us however you want.
On page two write a message to someone you want to thank, somebody you can't visit at the moment, a keyworker or even to the residents of the nursing or care home down the road.
No colouring equipment? Download an app and do it digitally!
When you have finished, before you send it to the recipient, take a picture and share it on facebook, twitter or instagram and tag us if you like or use the hashtag .
This is for anyone, please share! Here is our first one….Quinn seems to have had a rainbow makeover and the girls are all pretty in pinks!
#colouring through the #coronavirus #lockdown #stayhome but make #smilesacrossthemiles