DOG SHOWS – 1936 to 2000
By the Late GRC President, Joan Gill reflects on showing past and present
I had my first Golden Retriever in May, 1936 and I registered him as Simon of Brookshill. I had no intention of showing or breeding until I met Mrs Morgan, of the Weyland Goldens. Simon was about four months old and she said, "He is a beautiful puppy, but you had better show him as soon as you can before he grows too big", which he did. She also said that if I wanted to breed she knew of a nice bitch, so in August of 1936 I bought Speedwell Dulcet from Mrs Evers Swindell. I entered her for a show. I don't know where it was, except that it was somewhere in London, or what society, but I went into the ring, full of hope as Dulcet had already won a Puppy Class with her breeder. Of course I had no idea of how to show her, or what to do, so I stood there with Dulcet on her lead and did absolutely nothing. Obviously I didn't get anything and when I came out of the ring a rather cross Mrs Evers Swindell came up to me and said that I would never win anything if I showed her like that, but she didn't give me any hints as to what I should do and there were no ringcraft classes then!!
1957 GRC Show at Sandford-on-Thames, Judge Joe Braddon
Joan Gill with Ch Simon of Westley (BOB) and June Chamberlain with Chalice of Altarnun
Later Mrs Nairn, of the Stubbings Goldens, helped me a bit and gave me some tips, but I wasn't very good. In fact I was very bad. Then Mrs Pilkington, of the Alresford Goldens, said one day, "Let me have your bitch and I will win with her. You have mine." She won the class with Dulcet and I was second with her bitch. I didn't do very much showing, but I went to one or two shows without my handling improving very much. I did enter The Golden Retriever Club Show, I think it was at Maidenhead, with Mrs Charlesworth judging. I had the 'flu so my father took her and he won second and after the class Mrs Charleswoth came across and said that he could have won the class if he had handled her better.
Dulcet had a litter in October 1937. I showed her at Crufts in the following February, though, as the puppies were only four months old, I shouldn't think she had much coat, but I went anyway. In those days it was in the Agricultural Hall at Islington, which was a very dark and dingy place. You had to stay for two days, whether you won anything or not. If you took your dogs home, you had to pay a deposit. I don't think it was very much, and you had to bring them back the next day. You could leave them overnight on your bench if you wanted to and there were people on duty all night to see that the dogs were alright, but I don't think many people did that. I certainly didn't. I only lived twelve miles from London in those days, so I obviously went home and came back the following day. I think the breed judging was on the first day and the gamekeepers classes and some variety judging and Best in show, on the second day. There were no groups then and all breeds went in the big ring. I remember that Mrs Wentworth Smith won Best of Breed with Ch Chief of Yelme, a big, fairly heavy boned dog, not very dark, medium to pale. I saw Mr Lloyd win Best in Show with Exquisite Model of Ware and I was absolutely fascinated by how he handled her, he didn't touch her. She just stood there, looking up at him, standing perfectly and never moving. All his cockers showed like that. How he did it I just don't know. The next show I went to Ch Anningsley Fox won the C.C. He was a rather different type, a lighter build, smaller and very dark. Goldens were always handled free then. The first person I saw "topping and tailing" was Enid Minter (Stenbury) at one of the early post-war shows, but it gradually became more popular. Necks were not trimmed nearly as much as they are today.
I don't know much about the wartime shows. I didn't go to any, as I was first an ambulance driver and then in the WAAF. Shows were confined to exhibitors living within a 25 mile radius of the venue, which continued for a short time after the war because of petrol rationing. In 1945 we moved to the village of Westley, near Bury St. Edmunds and I bought a puppy from Miss Dixon (Gazeon) on the advice of Mrs Wentworth Smith. I lost my pre-war affix of Brookshill as I didn't maintain it, but was granted Westley and compounded it for life for £7! I registered my puppy as Susan of Westley and took her to all the radius shows and together we learned what to do in the ring. I also trained her to the gun.
Championship shows were allowed in 1947, there were just 12 general Ch Shows that year and 241 Specialist shows. In 1948 there were 22 general and 76 specialist shows. Now there are 26 general Ch Shows and I don't know how many group and breed club shows. Many of the 1947 and 1948 shows have lost their Ch status over the years. Some that come to mind are Kensington, Croydon (where I made up my first champion), Metropolitan and Essex, Chester, Ayr and Stockton on Tees. A popular venue in those days was London's Olympia, where the catering by Lyons was extra good! Crufts was held there until it was no longer available for dog shows, so in 1979 it moved to Earl's Court.
Charles Cruft died during the war, so the Kennel Club took over the show and the name and it replaced the Kennel Club's own show. The first show was in October 1948 and I won the CC with Susan. The previous Saturday she had won a Certificate of Merit at a field trial, so I was lucky enough to win the lovely Gold Cup, which was later won outright by Bill Hickmott. It was much easier to have a dual purpose dog then as the split between show and work was almost non-existent, but it became wider and wider. The next Crufts was in 1950 in February, Crufts traditional date.
Shows then were much more relaxed with much smaller entries, one judge, who always had a proper lunch break, and starting at 11am, or even later, and finishing in time for us all to go and have tea! There was no worry about leaving our dogs on the bench, we knew they would come to no harm, but I wouldn't leave them now. There was a fixed removal time and an early removal time, an hour earlier for people living over 50 miles away "as the crow flies". The removal time was usually 5.30pm, but at Crufts no dogs were allowed out until 8pm.
The entries for all Ch shows got larger and larger and starting times earlier and earlier and when The Golden Retriever Club show drew over 300 dogs for Mrs Wentworth Smith (Yelme) we realised two judges were necessary for our club show. This was held for many years at Sandford on Thames Country Club, a lovely ground where the dogs could swim in the river afterwards. We were usually lucky with the weather there. Fortunately we were for Mrs Wentworth Smith, and with the help of efficient stewards and a collecting ring she got through it very well. There was always a "party" atmosphere at Sandford but sadly we outgrew it as entries continued to rise until the 1980s.
Before there were motorways and many more dual carriageways Joan Tudor and I often used to go by train. Mrs Cooke, from Kent, used to organise these train parties and there was no trouble then about driving into London and leaving your car at the station for two nights. We had a reserved carriage, one with a corridor and separate compartments and with usually, only two people and their dogs in each compartment, we managed to get some sleep! One of the SKC shows was held at Waverley Market, adjacent to Edinburgh station. We arrived about 6am, but we were allowed to stay on the train until we could get into the market, which was one of the dingiest, most miserable venues I've ever been to. The other SKC show was held at Kelvin Hall, Glasgow, which wasn't much better!
One year Joan and I decided to go by train to Manchester under a judge who had done her dog and my bitch very well the previous year. When we arrived we found the dog (lets call him Moss), who had won the CC under this judge last time she judged, was entered (something we all know is "not done"). The judge was one who divided each class into two as she judged each dog, but she didn't always stick to the same side for the "ins" and "outs", which was confusing, but at least it kept everybody optimistic until the end! Joan was in Open dog and was put the same side as Moss, so we thought she was alright and were rather shocked when that was the group sent out, but we decided
it served Moss's owner right! When the same thing happened to me we saw the funny side of it.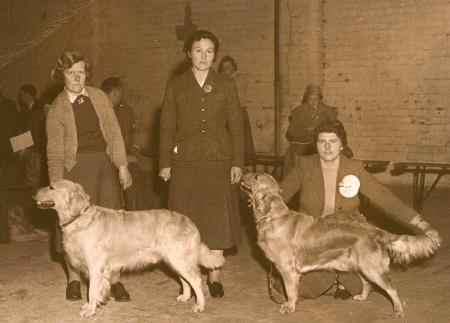 Birmingham National, Old Bingley Hall, Dec 1957, Judge Joan Gill
Miss Miriam Clarke with Ch Heatherdell Gay Boy (BOB) and Mrs Lucille Sawtell with Sh Ch Pandown Poppet of Yeo
For some of the summer shows we would set off the previous evening and sleep in the car somewhere along the way. To begin with it was in Joan's ordinary saloon car and then I had a sort of van with windows, which I suppose was a very basic "people carrier". With all the seats down we could lie down properly and leave room for the dogs. I remember we had some rather strange breakfasts on those occasions! Later when we went to several shows in John Tiranti's camper van, with 4 people and up to eight dogs, we would get to the showground the night before and have a sort of bed and a proper breakfast. That was luxury! At that time they were all one day shows, but ever increasing entries and the number of breeds made the extra days necessary.
About 1967, when Joan had a roomy van with windows, we were joined by Hazel Hinks to go to Paignton, which was then actually in Paignton. It was on a Thursday and the plan was to go back to Hazel's house, which was in Cheshire and have a good night's sleep, a quiet day on Friday and go to a Ch Show in Scotland on Saturday. Unfortunately, as we left the show, we had a severe thunderstorm with torrential rain and flash floods. We kept finding roads impassable and on one occasion got stuck in the water and had to push the car out. We eventually found ourselves somewhere outside Bristol with water all around us, but we could see at the top of the hill, a pub on dry land. The storm was still raging, but I decided I would "paddle" up to the pub and see if we could stay there. Fortunately the water wasn't too deep, but when I got there the landlord said we couldn't stay there, not even in the bar just to keep dry. Then a very kind girl behind the bar said we could stay the night in her caravan, which was in the car park. Joan had managed to get the van up to the pub and when we got to the caravan found the calor gas cooker full on, with the door open, to warm us up and dry our clothes. We were so grateful. Eventually with the help of the cooker and some brandy we got warm enough to get some sleep. The next day was fine, but we found road after road flooded and had to go as far as Banbury before we could start going north. We didn't get to Cheshire until evening and after a few hours sleep got up at 4am and went to Scotland. We must have been mad, but at least, I remember, we all did well at the show.
I usually stayed with Elma Stonex for Paignton and on other occasions (Taunton used to have a Ch show) and I learned such a lot from her. We used to sit up very late looking through all her scrap books and records. One night, at about 1am, we heard her kitten crying and discovered she was at the top of a tall tree and couldn't get down, so I climbed up the tree, with Elma shining a torch to light my way, and rescued the kitten. That was about 40 years ago!
Before the days of motorways with their services and Little Chefs (who for many years closed at 7pm) it was very difficult to find anywhere to get even a cup of tea, especially on Sundays. On one occasion, coming back from Scotland in John's camper van, we were all very anxious for something to drink and we searched the whole of Kendal for a cafe but nothing was open. Eventually we found a shop, but all they could offer us was a bottle of Dandylion and Burdock, a very strange drink that we didn't like very much and most of it was spilled all over the floor of the van.
Occasionally I went by coach and after one show it became very foggy and we stopped at a transport cafe for refreshments. We were told the "Ladies" was round the back, so we groped our way through darkness and thick fog until we found a building and we all trooped in. As we were getting ready to go out and find the coach a lorry driver came in and was very shocked to find a crowd of women in the "Gents"!
Now we have motorways and by-passes, which means we rarely have to go through towns, and plenty of services, but we also have a lot more traffic and traffic jams, early starts and huge entries. We have ringcraft classes, gundog training classes, seminars and plenty of books and articles to help us learn about all aspects of the dog world, but in the course of "progress" older exhibitors agree that shows have lost something, perhaps they are more competitive and less of a social occasion than they used to be. However, I still enjoy shows, especially when I come without a dog and can watch more of the judging, but even that was much better when we had one judge and could watch both sexes. Field Trials were also more fun, but that is another story!
Judging has also changed over the years. Judges always wore hats, even the men. Jimmy Garrow, a famous Scottish all rounder, always wore a very large brimmed hat and Bill Burrows always wore a bowler. I never liked wearing hats, so when Rene Parsons, of Torrdale fame, judged without one, I decided that if Rene could judge without a hat, so could I, and I've never judged in one since.
Another thing that so many judges used to do, was to pull out their winner, line them up and then proceed to change them all round. At one Ch show, the judge had "rounds", she lined them up, moved them round the ring and then changed their positions. In one class, after the 4th round she finally placed them and the poor girl who had stayed first all the time was put down to VHC. I feel judges should make up their minds before placing the dogs and then leave them alone. Fortunately this is the normal method now.
One thing that isn't so good now is that some judges are describing dogs of 23 inches at the shoulder as too big. So many dogs are at the lower end of the standard (and I suspect some are under 22 ins), that anything nearer the middle to top height appears too big to some judges. There are maybe a few bitches that are over 22 inches, but it is a long time since I saw a dog over 24″. I think there should be some proper measures available to check the correct height. Tape measures and such things are useless. It doesn't matter if the dogs are at the top, or bottom, of the standard as long as they are balanced, but goldens with short legs and exaggerated depth of body (and often length of loin as well) are not!
So many changes have taken place in the 60 plus years that I have been involved with showing, breeding and judging, but one thing has never changed – the beauty, the character and the charm of the Golden Retriever.
JOAN GILL