Dogs of the Past
We are very grateful to have the following article written especially for our website by Mrs Joan Tudor of the world famous Camrose kennel
Insight into the Influence of 'Golden Camrose Tess' on the breed
'Golden Camrose Tess' was the foundation bitch of the Camrose kennel and was to have a profound influence on the breed post-war, as every Golden with a 'Camrose' ancestor is descended from her – and this is most of today's Goldens. Tess was the last puppy for sale from a litter of 9, and cost the princely sum of 8 guineas (or £8.8s) and what a bargain she was to prove!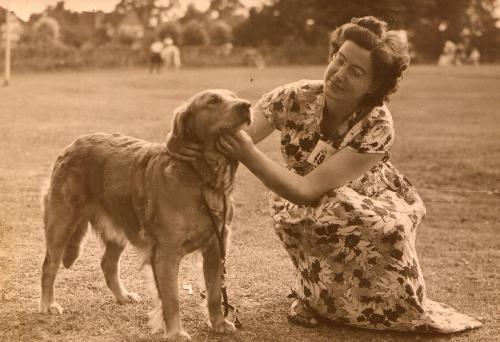 She was bought purely as a pet, but when studied, her pedigree was found to contain many Champions, and amongst many famous dogs, she was a great granddaughter of Dual Champion Anningsley Stingo. So it was decided to find out more about Goldens and Joan bought the only book on the breed at that time which was written by Mrs W. Charlesworth.
Having read and re-read this, she decided to visit some shows as a spectator – and learned so much from listening to people at the ringside, and watching the dogs being shown, and came to the conclusion that Tess might be able to do some winning. This she eventually did by taking 1CC and a Res CC
Being very impressed with the fact that Tess's g.g.sire was a Dual Ch., it was decided to mate her to a dog also descended from him, namely Ch Colin of Rosecott.
Tess was quite a big bitch, with a very lovely head, quite dark coloured, but failed in hind angulation. Fortunately Colin was able to improve this in her litter, for she produced a Champion bitch and a dual c.c. winner in Camrose Antony.
Tess with her son Camrose Antony
Antony and Ch Camrose Fantango, from Tess's second litter to Dorcas Timberscombe Topper, were to be responsible for a long line of Champions for 'Camrose' and other breeders. Probably many of today's breeders do not realise that one or both of these dogs are in the extended pedigrees of their Goldens through such famous sires as Ch Camrose Cabus Christopher, Ch Sansue Camrose Phoenix, Ch Camrose Nicholas of Westley. Ch Stolford Happy Lad, Ch Davern Figaro. Ch Gaineda Consolidator of Sansue and Ch Nortonwood Faunus.
Memories of Past Camrose Dogs
CAMROSE ANTONY (2 CCs and 6 Res CCs)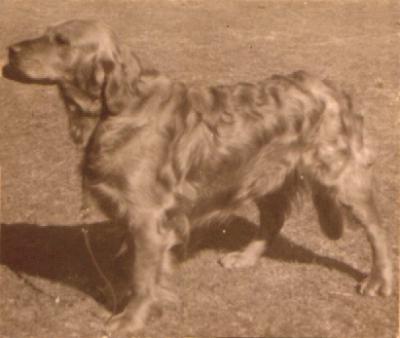 CAMROSE ANTONY was the sire of Ch. Camrose Tantara who started a line of Champions for several generations, so I feel he should be mentioned here. He was one of my very special dogs who was a real personality boy. All strangers who came to the door were terrified of him, as he greeted them with his special 'talk', which was a very low rumbling sound, assumed by them to be a growl – it was wonderful for keeping dubious characters at bay, but loved by all who knew him.
Antony was very unlike either of his parents, as he was a very powerfully built dog with profuse wavy coat, very strong head
and bone and very 'throaty' (which I succeeded in hiding from judges!!) The emblem for the Scottish G.R.C. is taken from one of his photos, and though supposed to be anonymous, of course I recognised the photo.
Ch. CAMROSE FANTANGO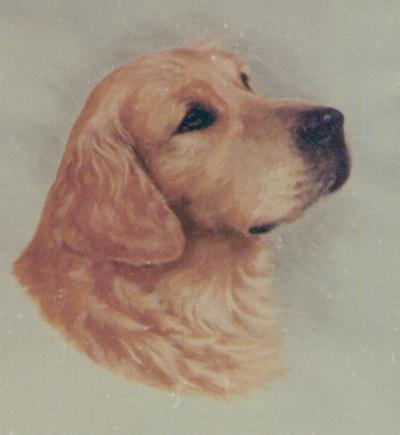 Ch. CAMROSE FANTANGO was completely different from his half-brother, as he was much paler coloured, had the most beautiful head of any Golden I've ever seen. Always rather lacking in substance and a menace for me to show! He would go half way down the ring and come to a stop. But he adored Mrs Barron, as his favourite wife was her Ch. Jane of Anbria, so Margaret offered to show him for me, and was instrumental in getting his last 2 CCs to get him his title. 'Tango' was known here as the 'Cushion King' as he always greeted people with one of the lounge cushions in his mouth – he would then lie down and use the cushion as a pillow!
Ch. CAMROSE CABUS CHRISTOPHER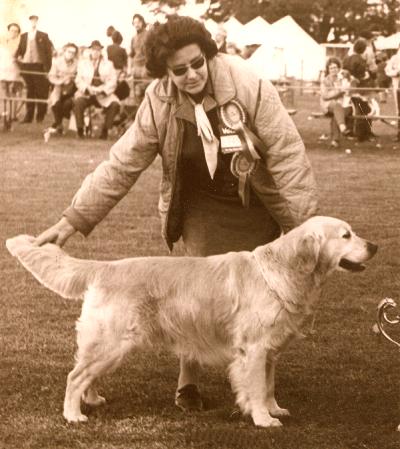 Left: Christopher seen here winning BIS at Leeds Ch Show,  was another of my very special dogs, as he was always MY DOG. He was no oil painting as a puppy, as nothing seemed to be in the right place! Certainly I didn't dream that he would make the dog he finally did. 'Toffer' to his friends, had the most wonderful construction, which was why he became such a favourite with the All-rounder judges, enabling him to win 8 Groups and 2 BIS at all breed Championship shows – but his head was never his fortune! His lateral movement was a joy to watch, and I often watched him moving round my paddock, with his long flowing stride, which was just 'poetry in motion'.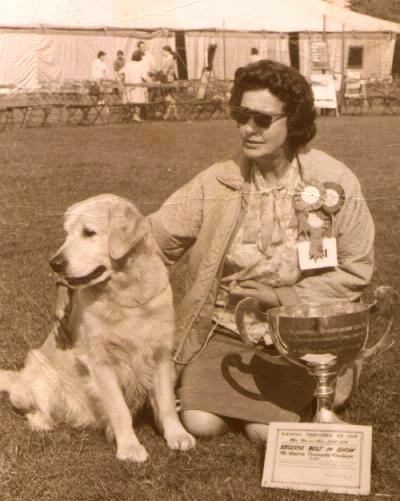 Left: Ch. CAMROSE CABUS CHRISTOPHER
Reserve BIS Blackpool Ch Show
Toffer was a born showman, and just loved being in the ring, but he had one habit, which I found most embarrassing, in that he would insist in either carrying his leash or the sleeve of my anorak! A natural worker, he was a joy to have on a shoot, as he would never tire, face any cover, and had a wonderful nose.
Sh Ch CAMROSE MATILDA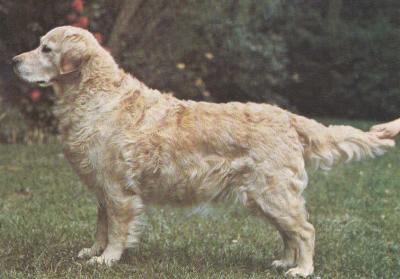 Sh Ch CAMROSE MATILDA (jointly owned with Miss Wilcock) as a puppy was very solidly built and had a short coat, with little feathering, and as she had a fairly strong head, she could be mistaken for a Labrador, by those who didn't know the breed! However things changed after she had her first litter, when she really began to look like a Golden, for suddenly she developed a beautiful wavy coat with masses of feathering! Looking at photos of her when she was quite old one can see her very intense waves. I remember the day at Crufts when Mrs Stonex was judging and wearing a large-brimmed hat, 'Tilda' was so astounded that she backed away from her at first, never having seen anything like it before! However she soon recovered and was able to win the C.C. That taught me a lesson, never to wear a hat with a brim when judging – at that time we all wore hats for those occasions!
Ch CAMROSE FABIUS TARQUIN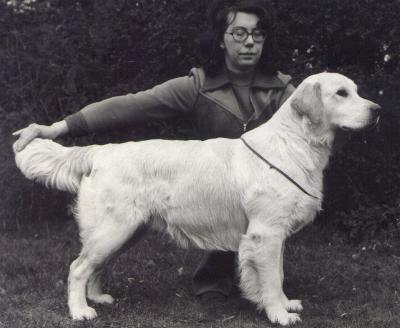 Ch CAMROSE FABIUS TARQUIN (jointly bred and owned with Miss Wilcock) was one of Matilda's titled sons – the other being the Weeks' Sh Ch Camrose Hardanger Fjord of Beldonburn. 'Tarquin' had a wonderful career as a Junior, taking his JW three times over, and having numerous Best Puppyin Shows. He was a very mature youngster, as his puppy photo at10 months shows. He had aprofuse coat, very good construction both ends, and was a super mover, so took the All Rounders eye. After his Junior days, he went through a very teenage stage and was very immature for quite a long time, and took quite a long time to come to his prime. I loved his head which had a super eye and expression – which was much better than that of his sire (Christopher).
Ch STYAL STEPHANIE OF CAMROSE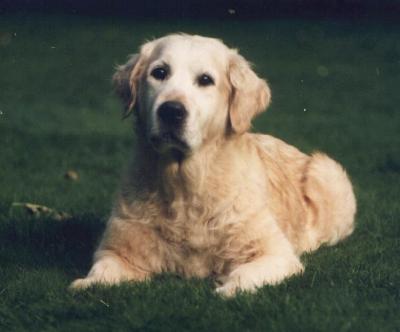 Ch STYAL STEPHANIE OF CAMROSE – the breed's record holding bitch (bred by Mrs Hinks , but jointly owned by Miss Wilcock and myself) 'Teffie' was another of Christopher's famous off-spring and was the most heavenly bitch to own. She had the most superb nature, but had one 'quirk' – she was scared of hairy dogs! In Best of Show rings she could not stand next to a Bobtail or one similarly coated or she would not show. I remember one day when I had her out 'picking up' we had to cross a field in which were a flock of sheep and she would insist on going right round the perimeter to avoid them – I suppose she thought they might be vicious dogs! As 'Fantango' had the perfect dog's head, so 'Teffie' had the most beautiful head for a bitch. I handled her in her early days in the ring, but Miss Wilcock was the one to gain her numerous CC's and Group wins, as they had a wonderful rapport.
Memories of some of the early post-war dogs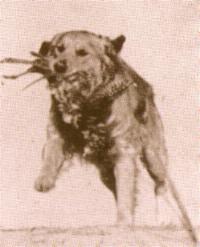 One of the first famous dogs I remember seeing in the ring was Ch. Torrdale Happy Lad – a very glamorous, heavily built extrovert cream dog – beautifully handled by Mr Fred Parsons.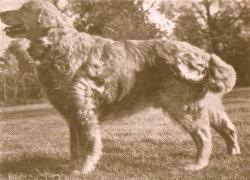 The next which impressed me for his type was Ch Dorcas Glorious of Slat (his closeness in relationship to my own Tess, was that her dam was his litter sister). He was a compact, wavy coated dog with a lovely head.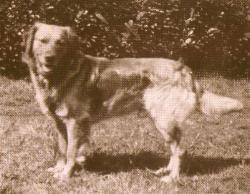 Ch's Victor and Royal Prince of Dewstraw were of a very different type, being dark, rather less heavily built dogs, and did not appeal to me as much as Sh Ch Roger of Rosecott. I must have watched the bitches too, but do not remember them, I suppose because by that time, I had decided I wanted a litter from Tess, so was more interested in selecting a mate for her.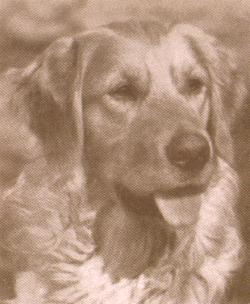 Ch. Weyland Varley was a really beautiful, masculine dog, with a lovely head and super construction both ends. I awarded him Best of Breed at the first Championship show I judged. He had a lovely temperament and I remember happy days out with his owner, Mrs Morgan, when she was helping me to train my dogs for their Qualifying Certificates
Ch. Alresford Advertiser always looked immaculate and was a great showman. A beautifully pale coated dog, of good size, well-made, and an impressive mover. I remember my husband and I meeting Mrs Pilkington with him, on one of the London main line stations on the way to a show, and my husband saying 'That's what I – call a dog!!!' (this was one of his expressions which meant a super dog). Needless to say Advertiser usually won over my dogs!! However I still awarded him a CC at one of the Birmingham shows.
Ch. Boltby Skylon was a delightful dog whom I often met at Mrs Harrison's home, as well as in the show ring. He had super happy temperament and was a dog one liked to stand next to in the ring, as so many at that time were not too pleasant and would growl at other dogs. He had a strong skull, but was rather short in foreface for true balance of head. He was not a big dog, but was very compact and had super hindquarters, a lovely pale coat and was very glamorous.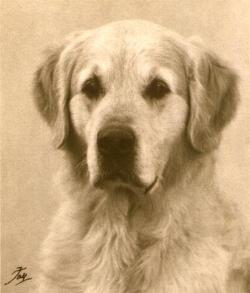 Ch/Irish Ch. Cabus Cadet belonging to Mrs Morgan (formerly Mrs Moriarty) was to become a sire of several important Champions. He was a good sized dog – very pale coloured – and with lots of substance and bone. However his front was not his fortune but 'Paddy' had super angulation and strength in his hindquarters, a good head and lots of ring presence. I was the first person from the south of England to use this dog – to improve my hindquarters – and he produced a litter for me with 3 Champions in it, which had his rear end but retained my very good fronts!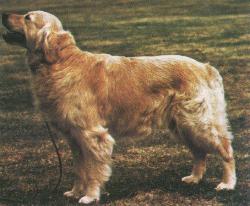 Miss Gill's Ch. Camrose Nicholas of Westley was a cream dog of lovely type and character. I remember taking his sire Ch. William of Westley to a show in Blackpool for Joan ( who was in hospital at the time), and having a nightmare journey with him. He was a very energetic dog and would not keep still in the train overnight, and when walking to the show drove me mad, as he insisted on lifting his leg at every corner, tree or lamppost we came to! However we did manage to get Bill's 3rd CC that day!
Later Miss Gill returned the compliment for me by taking Ch. Camrose Jessica (Nicholas' dam) to Leeds under Mrs Stonex, and winning Jessica's 3rd cc.! Jessica was a bitch I didn't think very much of, as she was rather small, not very good in forehand and rather weak in head, so I had stopped showing her. One day my husband (with one of his 'hunches') said 'You should show Jessica again – she will do well' She did as on her next outings she gained her CC's!!
I hope that this article enables you to find out something interesting about some of the influential dogs of the past, and is of some help to those of you who have these dogs in your extended pedigrees.
Joan Tudor 2001