THE VERSATILE GOLDEN – kindly written by Joan Lavender
OBEDIENCE HISTORY
The Golden Retriever must be among the top three of all breeds for the number of activities in which it takes part – Breed shows, Field Trials, Working Tests, Obedience, Working Trials, Agility, Heelwork to Music, with success in all these principles – Working as Guide Dogs, Dogs for the Disabled, Hearing Dogs, PAT Dogs – and as a companion dog at home it is unrivalled!
To list but a few here are some of the most notable successes:
Obedience Champions. Three wins in class 'C' at Ch Obedience shows under three different judges are required for this title, or one win in 'C' at a Ch Obedience Show, which is needed each year to qualify a dog to work in obedience Ch classes at Crufts, followed by winning one of these classes makes your dog an Obedience Champion if it is not one already.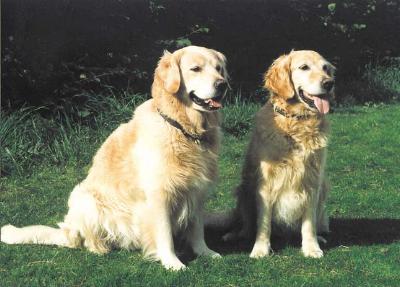 Left: Ob Ch Melfricka Limelight (owned by Angela Richmond)
To date we have nine Obedience Champions
First to qualify, in the early '60s, was Ob Ch Castlenau Pizzicato CDex, UDex, WDex (Ch Camrose Fantango ex Castlenau Concerto), dog, bred in 1956 by Mrs M Baker, pet name Honey, owned by Mrs Kay Needs. He was also a Crufts Obedience Championship winner.
Second, in 1965, was Ob Ch Nicholas of Albesdon (Stubblesdown Nerula ex Judy of Eglesfield), dog, homebred in 1956, pet name Nicky, owned by Arthur Frost.
Third, in 1970, was Ob Ch Nana of Bournemouth (Sh Ch Anbria Tantalus ex Duchess of Wykeham), bitch, bred in 1964 by Dr I Hadfield, pet name Nana, owned by Bob Knight.
Fourth, in 1973, was Ob Ch Golden Seeker (Blair Haig ex Leygore Juno), dog, bred in 1966 by Mr A Murray, pet name Seeker, owned by Mick Allsop (who is still working a Golden in obedience).
Fifth, in 1973 also, was Ob Ch Golden Gift (Ch Camrose Tallyrand of Anbria ex Linsum Sharon), dog, bred in 1964 by Mr and Mrs Booth, pet name Goldie, owned by John Burdett (he also won a Crufts Championship).
We then waited 13 years for: Sixth, in 1986, Ob Ch Melfricka Limelight (Ch Camrose Fabius Tarquin ex Melfricka Go For Gold), dog, bred in 1980 by Mr and Mrs F Hathaway, pet name Mel, owned by Mrs Angela Richmond, who (together with her husband Keith) is still working Melfricka Goldens in 2000!
Seventh, in 1988, was Ob Ch Kingsey Golden Lass (Temevale Foxtrot of Empshott ex Empshott Birthday Maid), bitch, bred in 1981 by Mrs Benham Crosswell, pet name Holly, owned by Mrs Viv White who also still works Goldens.
Eighth, in 1997, was Ob Ch Melnola Bramble CDex, UDex, WDex, TDex (FT Ch Holway Corbiere ex Marshflight Curlew of Melnola), dog, bred in 1989 by Mr and Mrs John Parkinson, pet name Bramble, owned by Patrick Holden.
Ninth, in 1998, was Ob Ch Mister Midas (Culray Masterful William ex Solos Springtime Daisy), dog, bred in 1991 by Mrs P Jones, owned by Neil Short. Both Patrick and Neil are working new Golden puppies.
I am fortunate in having known all these dogs and owners personally, having also judged most of them and given obedience CCs to Golden Seeker and Limelight. Most of them were what I call dual-purpose bred or field-bred and all were happy, stylish workers which is the hallmark of the Golden Retriever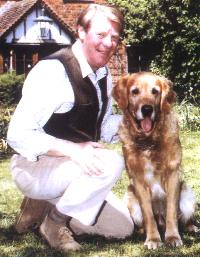 Patrick Holden with Ob Ch Melnola Bramble CDex, UDex, WDex, TDex
DOB 13/6/89
Sire: Ft Ch Holway Corbiere
Dam: Marshflight Curlew of Melnola CDex, WDex
Bramble is the first and so far the only Golden ever to qualify TDex in Working Trials and to become an Obedience Champion, in Obedience
WORKING TRIALS HISTORY
Now to the Goldens who have obtained the full set of working trial qualifications:
CDex (companion dog),
UDex (utility dog),
WDex (working dog) and
TDex (tracking dog), all at grade 'excellent'.
There is another, PDex (patrol dog), and this includes manwork and other police work which Goldens have not as yet, and I hope never will enter.
To gain the title of working trial champion, a dog has to win either two TD stakes, or two PD stakes, or one of each. We are hoping that one day a Golden will achieve this with two TDex wins. Before a dog may be entered for any 'Ex' qualification at a Ch Trial he must have obtained plain CD, UD, WD and TD at an open trial.
All the following dogs qualified CDex, UDex, WDex, TDex:
First, in 1982, was Courtenay Trudeau (Rebas Andronicus ex Colbar Jasmine at Courtenay), dog, bred in 1979 by F Spence, pet name Shane, owned by Doreen Thompson.
Second, in 1988, was Holway Suspect (FT Ch Holway Denier ex FT Ch Little Marston Chorus of Holway), dog, bred by Mrs June Atkinson in 1985, pet name Toska, also owned by Doreen Thompson, who is currently working a Golden in obedience.
Third, in 1990, was Melnola Sweetbriar (Taragindi Solitaire of Melnola ex Jandena Sundance), bitch, bred by Mr and Mrs John Parkinson in 1983, pet name Briar, worked by Pat Parkinson.
Fourth, in 1991, was Taragindi Solitaire of Melnola (Belway Flick of Flightline ex Taragindi Golden Amethyst), dog, bred in 1982 by Mrs Jean Hill, pet name Solo, worked by John Parkinson. Solo was also a field trial winner.
Fifth, in 1991, was Hogmanay Amber Delight (Holway Domino ex Kenwunn Beauty), bitch, bred by Roy King in 1987, pet name Amber, owned by Max Parker.
Sixth, in 1994, was Melnola Wild Rose (FT Ch Holway Corbiere ex Marshflight Curlew of Melnola), bitch, bred in 1989 by Mr and Mrs J Parkinson, pet name Rosie.
Seventh, in 1995, was Ob Ch Melnola Bramble, litter brother to Wild Rose, pet name Bramble, owned by Patrick Holden and the only Golden obedience champion to have qualified CDex, UDex, WDex, TDex.
Eighth, in 1998, was Winston Major of Guidewell (Guidewell Fenton CDex, UDex, WDex ex Countess Sybella), dog, bred in 1992 by Jean Smith, pet name Freddie, worked by Sue McCabe. Note the 'Guide Dogs' connection!
Ninth, in 1999, was Storm Shadow (Donnovan of Deadcroft ex Bonny of Brentwood), dog, bred in 1993, pet name Fred, owned by Ann Wright.
Tenth, in 1999, was Cassatess Bions Quest CDex, UDex, WDex, TDex (Shinehill Kings Ransom ex Santorini of Cassatess), dog, bred in 1994 by Angel Williams, pet name Barney, owned by Pauline Jefferey.
Eleventh, in 2002, was Hector of Carisbrook CDex, WDex, TDex, (Storm Shadow CDex, UDex, WDex, TDex ex Hambleton Foxglove CDex, UDex.)
Most of the above dogs come from field lines, but several also worked obedience, further emphasising the versatility of Goldens.
AGILITY HISTORY
Many Goldens work in agility competitions, but the most successful one was undoubtedly the late Charles Harvest Sun (Noravon Troilius of Camrose ex Tanashlie Moonbeam), dog, bred in 1984 by Daphne Rogers, pet name Charlie, owned by Barrie Harvey.
A good-looking dog, Charlie was frequently seen on television in Crufts coverage etc. He was a big winner in agility, and was seen at Crufts in the winning agility team (Barking – the town, not the noise!) in 1991 and '92. The team was also second in 1993. He was also in the Pedigree Chum Olympia finals in 1987, '89 and '91 and also in the Barbour pairs finals for two years. Charlie frequently beat the 'Collie types' for best time. He will be sadly missed by Barrie.
PEREDHIL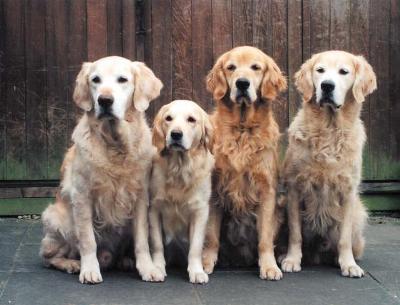 The four Peredhils are all bred by breeders who also work their dogs. They all pick-up at the local shoots, which I have concentrated on in the past few years. They have all done a bit of obedience, and even less in the breed, apart form Beren who did quite a bit of winning (including BOB) in his youth! He also did well in working tests. I am now doing some obedience with young Keri, plus working tests, but "picking-up" remains her favourite occupation. They are all registered "Pat Dogs", visiting elderly housebound people and those in Care homes. They also do the occasional school visit to educate youngsters on how to relate to dogs.
All four have the Kennel Club Bronze, Silver and Gold awards. They are all very lively dogs but perseverance has paid off and they get many compliments from the 'General public', which is rather important, I feel!
You can't say that Goldens are not extremely versatile…..!
We are very fortunate to have the following article written by Joan especially for our website So everyone out there with an errant Golden Retriever, take heart, even these paragons of virtue have their moments!
THE "PERILS" OF PEREDHIL Buckflight Otter (Jason) 1969-1981
I bought my first Golden 32 years ago – previously I owned & worked Miniature Poodles & Shelties in Obedience (I must say they all had a warped sense of humour too!)
I wondered what had hit me! Knowing only middle-aged trained Goldens, I wasn't expecting the bundle of exuberance and downright naughtiness that is a male Golden Retriever puppy – especially one that is bred for the field.
'Jason' soon had me well under control, & I had to rethink all my training methods – however he taught me a lot during the eleven years we shared – 'having a go' at Working Trials & with occasional flashes of genius in Obedience (when he did his 'stays' which were his biggest 'problem') – but above all he introduced me to the joys of field work (in his own inimitable fashion!)
One of his best 'funnies' occurred at an Obedience Show during the lunch hour. Some small boys arrived on their bikes & sat around in a circle enjoying their portable radio. 'Jason' (A.K.A 'HIMSELF') was off like a shot, jumped over the boys and their bikes, picked up the radio by its handle & returned to present perfectly, still playing loudly…. He must have been specially attracted to music, because he went missing one morning on a walk. I found him in a builders hut, doing an Irish jig with the 'Paddies' inside and sharing their bacon butties! He was a great dog, a real individualist (aren't they all?) & introduced me to the joys of 'Golden Ownership.'
Pitcote Ambush of Peredhil (Strider) 1978-1991
I then decided that perhaps owning two Goldens would be a good thing, but this time I would go in for a 'show bred' one & soon found out that the sense of humour doesn't only apply to 'field' ones!
Strider did very well in Breed, obtaining many firsts and a BOB, but of course we decided to concentrate on the working side.
He obtained his Show Gundog Working Certificate at just over a year old, won out of Novice Obedience & had firsts and many places in 'A' & 'B' – he also found time for a few small successes in Working Tests.
His sense of humour was highly developed, particularly in the obedience 'send away', where his best efforts were concentrated. He had a habit of running straight through the 'markers', out of the ring & on & on until he reached a hedge & went hunting (someone once asked me what he was doing putting up a pheasant during an Obedience Test!) In response to my 'anguished yells', he would eventually return & drop straight in the sendaway box. The best was one day when there was (unusually) a second set of ring ropes round about dog height. Hitting this rope at great force he brought most of the ring (and the one next door) down about his ears. Not at all put off he dropped within the markers wrapped up in the ropes and looking like a mummy. However he managed to unwrap himself in time for a lovely Recall. The Judge next door was in fits of laughter, & my Judge dropped him only 5 points! A lovely boy to live with & great fun!
Jalspear Arwen of Peredhil (Arwen) 1980-1993
I then made it a 'threesome' with 'Evil' as she was always known. She was born knowing all the 'tricks of the trade'. Another all-rounder, she did a bit of Breed, showing with several placings, and a few Working Tests, also gaining places. She also did a bit of 'picking up' where she once tried out an 'Evil Habit' which she started at Working Tests, ie taking the dummy off to a stream & sitting in it clutching said dumbell – only it seemed an even worse sin when it was a pheasant………..
She was good at Obedience, but must have held the record for second places, she ended up by winning out of all but Test 'C' at Limited shows but was still eligible for Novice at Opens! But it was her 'Evil Funnies' where she really excelled. She once caused a sensation on a very hot day by wearing my sunhat all through her 'sit -stay' her expression as usual was 'I'm a GOOD girl I am!'
She was a glutton, amongst the variety of objects 'et' were some large rubber bands (unknown to me, when they reappeared bleached white, I thought they were tapeworms and spent a fortune on wormer for the rest of the gang); a whole packet of multi-coloured Jay-Cloths, again unnoticed by me until they appeared at the other end, all rolled together in a long string (which I called Rainbow's End!); an attempt at two pairs of spectacles – fortunately spotted in time; and my upper set of teeth, which I discovered when I saw the 4 teeth lovingly cradled in her paws, (she ate the plastic).
She once 'retrieved' a chicken, only it was 'oven ready' & very smelly, so I put it up in a tree, from which she rescued it the following day and presented it to a passer-by. "It's no good giving it toher again," she informed the lady, "she only puts it up trees!" She dived into a Scottish loch and brought up from the bottom, a half skeletal, half bloated Canada Goose, which also had to be put up a tree out of harm's way.
At a demonstration when retrieving a dumbell over three hurdles, she broke off to jump the ring ropes and pinched a sausage from the Hot Dog stall. When she had 'et it' she returned to the ring and finished the exercise. (The Chairman asked me how I taught her to do that!!) She once sat at the ringside with her head on a lady's knee – unfortunately the lady did not notice that 'Evil' had put her head in her pocket & licked the chocolate off her peanuts. She had a dreadful smarmy grin which she used on people, fluttering her eyelashes to remarks of "She's not Evil, she's lovely". "Lovely" flashed me a sidelong glance, observing "Another sucker here, Mum!"
Rayleas Chorister of Peredhil (Rohan) 1982-1995
Another all-rounder who did well in breed, winning quite a few firsts and his Show Gundog Working Certificate. Although he had a win and several placings at Obedience, he got rather bored with it when he found he could get much more enjoyment from Working Tests, with much more space & opportunities for 'doing your own thing!' He did quite well in most exercises, but usually managed to make a 'pigs ear' of one of them, just for fun!
It was when he started real work at 4 years of age that he came into his own, he was a great 'picker up' who also loved beating (& the two don't always go together) He worked right through to the age of eleven and a half and loved every minute. The KC Good Citizen Test was started around this time and he passed it in 1994.
Rohan had a 'wry' sense of humour (not an 'Evil' one) – a big loving boy who delighted in sharing his retrieves – which made him such a good 'picker up' but he 'lived to retrieve' so on day to day walks where there weren't any pheasants you were likely to be presented with long dead rabbits, manky old squirrels, rotten pigeons, dead rats or magpie skeletons, & woe betide you if you didn't accept them gratefully!! He sometimes would go missing for a while on a walk, but eventually would return usually bearing a present – usually dead & ancient. However the hedgehogs were always alive & well rolled up presenting prickles to hand. He never got scratched, but I did!! – especially putting them back under cover for the day… Thanks Rohan for getting me into the world of the Working Gundog.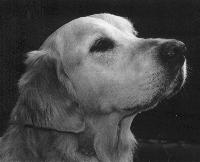 Pitcote Hooray Henry of Peredhil (Beren) 1987-2000
Beren, like his Uncle Strider, did very well in breed, winning many puppy classes and a BOB. He really took to the 'working life' and was often 'in the cards' at Working Tests, but it took him till he was a Senior Citizen of nearly 10 years before he won one (making headlines in the Sporting Times!!) He followed this Novice win, by one in Veteran at 11 years & went into honourable retirement.
We didn't have time and I lost a bit of interest for Obedience, so he only entered a few shows, as one Judge remarked 'could do well if he wasn't being trained for other things'. However he always did very well in Club Matches (usually held indoors where there were no birds and other interesting distractions!!) He did obtain his KC Good Citizen Silver & Gold Awards at 12 years of age (they had only just started and fortunately he was an 'old dog who you could teach new tricks'
He started picking up at 2 years, also enjoying a bit of beating & went on picking up until he was twelve and a half – from the above you can see he was a great 'laster.'
He had a gentle sense of humour, like Rohan he very often worked beautifully in all but one exercise, and amused himself in the latter, with a big 'Golden Grin' on his face. He was one of those 'Alpha Males' which didn't have to prove itself – if a dog attacked him he just turned it over & stood on it's ears & would leave at a word from me. His favourite trick was gathering all the other dog's empty food dishes, placing them one inside the other & presenting them to me! He was very fit until the day he died (of a massive stroke) Even then he had enjoyed his usual early run in the woods, ate his breakfast, gathered the dishes, went outside and collapsed. A wonderful way for a wonderful dog to end his life (I'm still missing him a lot)
With all the above dogs having 'crossed the Rainbow Bridge' I think the Angels must be having a hard time gathering their wings!!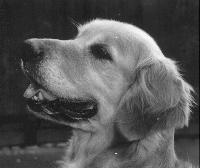 Millgreen Marksman for Peredhil (Ramey) b.1992
What can I say about 'Ramey' – nephew of Beren and related to Strider & Evil? I chose the quiet one of the litter & he ended up known as 'Mad Ramey'
Everything in his life has been undertaken at the double, with terrific enthusiasm (which shows little sign of abating, I am pleased to say)
He started off in Obedience with a bang, obtaining the old style Good Citizen Test at 19 weeks old, and another similar test with 100% marks at an exemption show. We then showed in a few breed classes, getting a few places on the only days he stood still, and one Obedience show where he distinguished himself by doing a lovely retrieve, and also retrieving part of the sendaway box from the neighbouring ring! I decided there & then to concentrate on the 'Field Events' only. He started off quite well in Working Tests, being placed in a Puppy Test – but then decided that these were meant to really enjoy oneself in. He is 'Retrieve Mad' and he wanted to show everyone else how good he is by presenting the dummy to anyone standing around before bunging it to me. The harder the retrieve the better. He once (only once) took part in aTteam Event, where he was the 'Novice' dog but insisted on retrieving the 'Open' dogs dummies
I at last know when I am beaten! He was then confined to 'Picking Up' at which he excels (he is also enthusiastic about the odd 'Beating' session, 'Finding' and 'Putting Up' with gay abandon). Considering he has suffered most of his life with problems with his digestion (what else!) he has worn remarkably well and had some super days this season. His one 'sin' is spotting a heap of birds awaiting collection & re-retrieving them. Oh and he did obtain his KC Good Citizen, silver & gold awards – the latter worked by a friend – he'll work for anybody!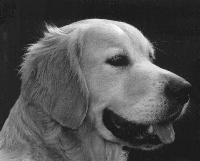 Alveston Claudius for Peredhil (Aslan) b.1994
Related to Rohan (and looking very much like him), Aslan has been my 'Greatest Success Story'. He is the one who really wanted to boss me! A very strong character, he didn't bother about my other dogs (I think he suspected that Beren wouldn't stand any nonsense) but almost everything I tried to teach him was turned into his own interpretation of 'how to do it'. Ordinary obedience 'sit' & 'down' involved quite a battle, recall was 'up yours!' and retrieve was the real problem – he wouldn't bring the article back, including pheasants!
I decided to tackle the retrieve problem -it took a long long time. I eventually solved it by carrying several tennis balls in my pocket. Throw him one – he picked it up & stood there. 'Come!' 'Shan't!'. 'Hey what's this, I've got a better one' (throwing it up and down in the air). Eventually he couldn't resist this, came back with the one he was holding and we did 'swaps' and gave lots of praise. This worked like a charm and still does. The guns were very surprised when I cured him of not returning pheasants by the same method!!
He got so anxious when I lost Beren, of his own accord he started to bring me the empty food dishes, & is now 'Mum's little helper' every time I drop anything, saves my poor old back no end!
Because of the lack of co-operation as a youngster, Breed & Obedience shows were out & unfortunately he hates swimming! (He'll paddle until he finds his toes are off the bottom & that's it!) He has swum on a couple of occasions, but it was pure accident. Therefore Working Tests are also out, but he is now a very loving dog who follows me everywhere, which is what really matters. However he does a lot of 'beating' and also quite a bit of 'picking up' so he's now a 'PROPER GUNDOG'. He did please me by passing all the KC Good Citizen awards as did his pals Beren & Ramey.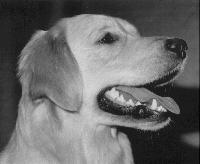 Rayleas Kerikeri for Peredhil (Keri) b.1997
I didn't have this lovely little girl until she was 10 months old, but she had the benefit of being 'brought up' by Catherine Zingg, her breeder, all of whose dogs behave impeccably!
After 3 lessons she passed her KC Good Citizen bronze award, followed by silver & gold 4 months later
She is a very small person with a great intellect, coupled with a bright personality which makes her a delight to own & train. She is a great little 'picker up' and her small stature makes it difficult for her, but she hasn't been beaten yet. A very large cock pheasant – a strong runner – was brought in, carried by the neck (as she couldn't get her mouth over his shoulders firmly enough) which was a hoot as his legs were hanging down on the ground still running. A Canada Goose nearly beat her – but she dragged it in by the legs. She is one of those dogs who needs the minimum of assistance by the handler, which is a good thing as I am not the 'World's Best' by any means. I have had to work really hard on 'directions' for Working Tests and have lost her several places through getting over excited myself, but I think now she is showing me the way! (She has gained some placings in spite of me!)
She is very good at Obedience but suffers from my very inaccurate heelwork (I now use a stick in the ring and it is improving) and I get some problems still because she thinks too much. On one occasion she brought all the scent cloths to me & then picked out the correct one! She said they were untidy littering the ground….
But her funniest moment was when I sent her to a sendaway which was straight up the ring. She spotted a lady sitting on the grass on the diagonal and obviously thought she looked lonely, so she dashed over and went 'down' on her lap! One command and she went straight to the sendaway box. The Judge was so impressed she gave her the 'Judge's Choice' Rosette.
However we are beginning to sort it out together now. She did win Novice & Class 'B' at Breed Limited shows and has had several near misses at other shows. (She already holds quite a collection of 'Judge's Specials)
Barley Sugar Bryn for Peredhil (Bryn) b.13/11/00
He is my new baby – entirely 'working bred' this time (all the others apart from Jason were bred by dual purpose breeders who both showed & worked their Goldens)
He is just 14 weeks old at the time of writing, is very exuberant, very intelligent & loves retrieving toys. he is going to be a challenge, but he has a superb temperament & likes to please. Keep your fingers crossed for me……
Well however 'naughty' my Goldens have been, they have always been a pleasure to own & incur many compliments from the 'man in the street'. They are also trained to be quiet so we don't get the noise problems with the neighbours that so many multi-dog owners seem to have. They walk nicely on the lead on road walks and come back to the whistle when running free.
They also have all been Registered PAT dogs, visiting Old People's Homes, & Schools for talks to the children on how to relate to dogs. But above all they are 'Pet Dogs' & live indoors where they delight in their imitation of 'wall to wall carpeting' (the carpet itself is retriever coloured!) One should never feel alone or upset with a few of our lovely breed as companions. Lets hope it never becomes spoilt!
Joan 'Dee-Jay' Lavender