Events 2020
Dates for Diary 2020
Meetings: Saturday 15th February 2020: Judges Sub, Finance and Executive committee, Stoulton Village Hall
AGM 2020 – Sunday March 22nd. 2020 Meeting Room A, KC Building, Stoneleigh. CV8 2LZ
MEMBERS PLEASE NOTE DUE TO THE ESCALATION OF THE CORNAVIRUS SITUATION THE CLUBS AGM SCHEDULED FOR 22ND. MARCH 2020 IS NOW CANCELLED. WE THINK THAT OUR MEMBERS AND COMMITTEE SAFETY AND HEALTH IS TOO IMPORTANT TO NOW RISK GOING AHEAD.
MEMBERS WILL BE NOTIFIED WHEN IT WILL BE RE-SCHEDULED. THAT WILL BE AT A TIME THE CLUB BELIEVES IT IS SAFE TO DO SO.
ANNUAL WORKING TESTS (Breed Only ) – SUNDAY 19TH APRIL 2020 At Rhymney, NP22 5QU By Kind Permission of The Duke of Beaufort and Wesley Thomas. CANCELLED DUE TO CONCERNS FOR MEMBERS AND COMMITTEE WELFARE WITH THE ON GOING CORONA VIRUS SITUATION.
CLICK BELOW FOR SCHEDULE AND ENTRY FORM:
SCHEDULE  
ENTRY FORM
Championship Show 2020: Sunday 19th.  July 2020, KC Building, Stoneleigh Park, Warwickshire CV8 2LZ  Dog Judge: Mrs. J. Barrow (Halebourne), Bitch Judge: Mrs. G. Hewitson (Seruilia), Referee/Progeny Judge: Ms. R. Turner (Amilone).      CANCELLED
It is with great sadness that The GRC has cancelled its July championship show. It is re scheduled at the same venue with the same Judges for November 22nd. 2020. This was our open show date but that will be re scheduled in 2021, and if all gets back to some sort or normal we hope to have 2 open shows in 2021 so as to give all of our judges the chance to still Judge for us. Our exhibitors, Judges and committee's welfare and safety is paramount to the club and we are monitoring the situation. If later in the year, in line with yesterdays KC statement we feel it is still not safe for all concern to hold the championship show in 2020, we will look at the available options for 2021. We will announce later in the summer a date that we will start accepting entries. We hope you are all keeping safe, and look forward to seeing you all later in the year.
Open Show 2020: 22nd. November 2020, KC Building, Stoneleigh Park, Stoneleigh, Warks. CV8 2LZ Breed Judge: Mrs. C. Haxton (Dantassie) Special Awards Classes: Miss. P. Wred (Gillbryan).
CANCELLED THIS WILL BE RE SCHEDULED IN 2021 DATE TO BE CONFIRMED.
Events 2019
Dates for diary 2019
Meeting :Sunday 27th January 2019, Judges Sub, Finance and Executive committee, Stoulton Village Hall
AGM 2019: Sunday 24th March 2019, Meeting Room A, KC Building, Stoneleigh Park, Warkwickshire. CV8 2LZ
Annual Breed only working tests 28th April 2019, Puppy, Novice Dog/Novice Handler, Novice, Open & Veteran. By Kind invitation of Mr. Andrew Wright, to be held at Ware, Hertfordshire. Schedule & Entry Form on  "Working news page". CANCELLED
Meeting: Sunday 30th June 2019  Finance Sub and Executive committee, Stoulton Village Hall
Championship Show 2019: Sunday 21st July 2019, KC Building, Stoneleigh Park, Warwickshire CV8 2LZ  Dog Judge: Mrs. P. Edwards (Lovehayne) and Bitch Judge Mrs. D. Rose (Gaytonwood).
PLEASE NOTE DUE TO HIGH DEMAND, ENTRIES FOR THE PARADE OF CHAMPIONS CANNOT BE ACCEPTED ON THE DAY. PLEASE DOWNLOAD AND RETURN THE FORM 
CLICK HERE FOR THE PARADE OF CHAMPIONS FORM
All Aged Trial: Friday 13th September 2019  Ampton, Suffolk. Judges: Jim Gale (A), Graham Stanley (B), Joy Venturi-Rose (B), Mr. Paul Wheeler  (NP) THE DRAW FOR THIS TRIAL HAS BEEN DONE. IF YOU ENTERED BUT HAVE NOT RECEIVED THE DRAW PLEASE CONTACT FIELD TRIAL SECRETARY MRS. MARY PALK.
Novice Trial 1: Monday 7th October 2019, Teffont, Wiltshire. Judges: Nick Coates (A), Dave England (B), Vickie Prichard (NP), Stuart Robson (NP)
MEETING: Sunday 20th October 2019, Executive Committee & Finance Sub Committee, Stoulton Village Hall.
GRC Two Day Stake: MONDAY 28TH & TUESDAY 29TH OCTOBER, 2019, LILAC FARM, KINGS LYNN, NORFOLK. JUDGES: R. Tomlinson (A) K. Doughty (A) N. Clitheroe (B) Peter Fulcher (B)  
Novice Trial 2: Wednesday 20th November,Holway, Dorset, Judges: Steve Ashby (A), Keith Sandercock (B), Alex Brain (NP), Helen Ford (NP)
Open Show 2019: 24th November 2019, KC Building, Stoneleigh Park, Stoneleigh, Warks. CV8 2LZ Breed Judge: Mrs. J. Ewart (Beaupippin).
Events 2018
MONDAY 8th JANUARY 2018, Novice Trial, Teffont Magna, Wiltshire
SUNDAY 14TH JANUARY 2018, BREED APPRECIATION DAY, HELD ON BEHALF OF THE GOLDEN RETRIEVER BREED AND BREED COUNCIL FOR THE KENNEL CLUB JCF PILOT SCHEME This is one of the new seminars for the new Judges education system coming into operation in 2019. Morning talk on the Golden Retriever Breed Standard, followed by Multiple Choice Exam in the afternoon on the Breed Standard. Needed by all judges, B list and below.
Sunday 4th February Meetings: Judges Sub, Finance, Executive Committee
SUNDAY 25TH MARCH 2018,  AGM, 2pm. Meeting Room A, The Kennel Club Building, Stoneleigh Park, Coventry, Warks CV8 2LZ
Sunday 13th May 2018 Health Seminar @ The Kennel Club Building.
Speakers: Owen Davies MRCVS Medical Oncologist – speaking on mast cell tumours, haemangiosarcomas, & other malignancies that Golden Retrievers are predisposed to. Any preferred points for discussion or specific questions can be sent in advance. There will also be time for a Q&A session
 Associate Solicitor – Talking on Dogs & the Law. Q&A time to follow.
Presentation by Bob Gore MRCVS – on First Aid, at home & in the field. Q&A time to follow.
 CLICK HERE FOR Application Form
Saturday & Sunday 19th & 20th May 2018 Working Weekend.
INTERNATIONAL WORKING TESTS (for Golden Retrievers only) at The Ilchester Estates, Dorset by kind invitation of The Hon. Mrs Charlotte Townshend. Mrs Townshend is the great-grandaughter of the 5th Lord Ilchester who himself was the owner of Ada the originator of the Ilchester line of 'yellow retrievers'.  Ada was given to Lord Ilchester by his uncle Lord Tweedmouth and her grave can be seen in the grounds of Melbury House.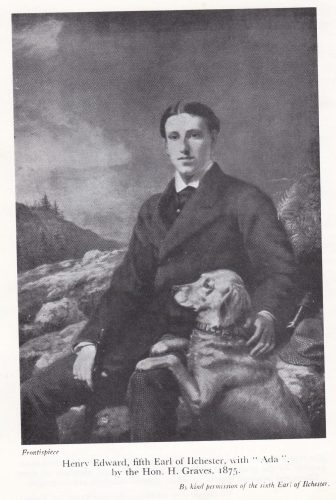 Saturday 19th  Abbotsbury Estate:  Puppy, Novice, Novice dog/novice handler, Veteran and Day 1 of Open tests
Saturday evening Holway Farms (By Kind Invitation of Robert Atkinson, Home of the well known Holway Goldens): An evening 'get-together' with fun events, Fish&Chips and Hog Roast Camping/caravaning field available.
Sunday 20th Melbury Estate:  Day 2 of Open Tests. Please put these important dates in your diary.  Full details of the event, schedule and entry forms will be available on the website February 2018.  Click on the link below for the flyer.
CLICK HERE: 150 years celebration working weekend
Schedule and Entry forms are now available to download on the 2018 Anniversary Page
Sunday 24th June  2018, MEETINGS, Stoulton Village Hall,  (Finance & executive committee)
Sunday 22nd. July 2018 Championship Show, At the Kennel Club Building, Stoneleigh Park, Coventry, Warks. CV8 2LZ  Judges: Dogs: Ms. K. Ellis (Tenfield), Bitches: Mrs. S. Almey (Arbutus), Referee & Progeny: Mrs. V. Jones (Ninell).
Monday 3rd September 2018 All Aged, Balcombe, W. Sussex.  CANCELLED DUE TO GAME CROP FAILURE.
Saturday 8th September 2018 Novice (1) Black Notley, Braintree, Essex
Tuesday 16th October 2018 Novice (2), Teffont Magna, Wilts.
Sunday 11th November 2018  Meetings, Finance Sub.  & Executive Committee Stoulton Village Hall
"Re-scheduled"
Two Day Stake Friday 16th November, 2018 at Abbotsbury, Dorset & Saturday 17th November at Holway Farms, Dorset.
Sunday 9th. December 2018 Special Christmas/Anniversary Open Show.
at The Kennel Club Building, Stoneleigh Park, Coventry, Warks. CV8 2LZ
Breed Judge: Mrs. L. Cole (Rooksbury), Special Awards Classes: Ms. A. Douthwaite (Gracewood).