NOVICE STAKE SATURDAY 7th JANUARY 2017 at TEFFONT MAGNA, WILTSHIRE. JUDGES: Colin Pelham(A) Alan Buckland (B) Bruce Ross-Smith(np) Jill Gardner(np) 1st: Mrs B. Becksteiner-Bickler   Bell Oktave Benjamin (Int. FTCh. Bridsgreen Simply Flint ex Chieldmark Countess) 2nd: W.G. &J.G.Warnett Pandapaws Brigand (Treunair Mull ex Serene Pursuit Clarissa of Pandapaws) 3 Certificates  of Merit Awarded: Mr.A. England Dairy
Work Results 2017
NOVICE STAKE
SATURDAY 7th JANUARY 2017
at
TEFFONT MAGNA, WILTSHIRE.
JUDGES: Colin Pelham(A) Alan Buckland (B) Bruce Ross-Smith(np) Jill Gardner(np)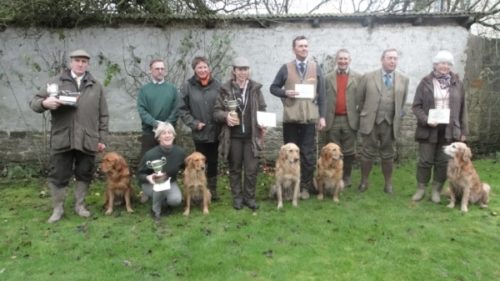 1st: Mrs B. Becksteiner-Bickler   Bell Oktave Benjamin (Int. FTCh. Bridsgreen Simply Flint ex Chieldmark Countess)
2nd: W.G. &J.G.Warnett Pandapaws Brigand (Treunair Mull ex Serene Pursuit Clarissa of Pandapaws)
3 Certificates  of Merit Awarded:
Mr.A. England Dairy Populus Tremula (Echobrook Fergus Mhor of Ashmhorgold  ex Merryway Orchid at Dairycott)
Mrs F. Baird Treunair Drimmie (Ernsfield Kestrel ex Treunair Rhum)
Mr & Mrs Hanman Haddeo Teyla (Abnalls Barley of Deadcraft ex Haddeo Hermia)
Photos by Phil Wagland
The Golden Retriever Club Annual Breed Working Tests
on Sunday 7th. May,
held at Owlpen Manor, Dursley, Glos.
By Kind Permission of Sir Nicholas Mander.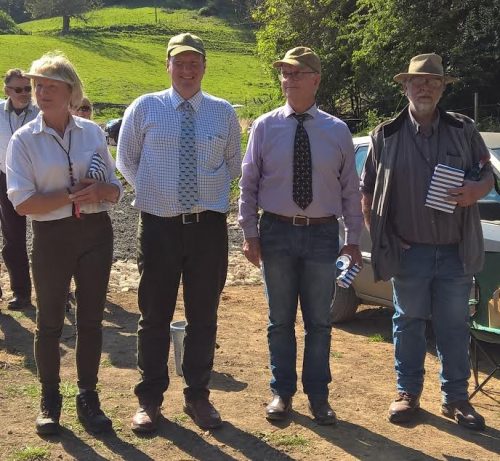 Judges: Mrs. A. Wales, Mr. S. Hagain, Mr. R. Tozer, & Mr. S Pullin.
Puppy winner with Club Chairman Roy Maynard
Puppy:
1st: David Godding – Kaliture Nero's Hero (Souter Tabasco of Roughbeat x Kaliture Kiche)
2nd. Andy Fisher – Afon River (Gortons Firecracker of Vamp x New Year Magic)
NDNH Winner
Novice Dog/Novice Handler:
1st. Karen Williams – Catcombe Country Czar Of Busheyhall Shcm (Catcombe Challenger x Catcombe Cherry Tart)
2nd. Alison Lang – Dikeadaze Dagan (Medodaine Angustah at Dikeadaze JW x Dikeadaze Dotty By Design)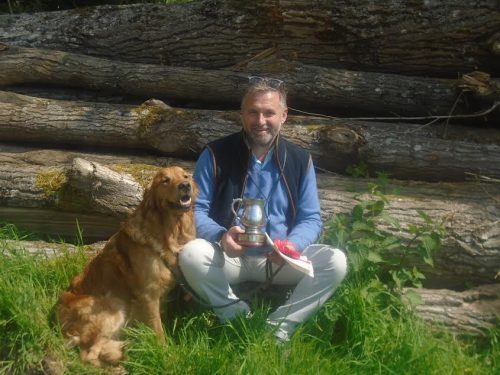 Novice Winner
Novice:
1st. Philip Blount – Hanwoodgold Archie (Echobrook Dexster x Chackmoreton Homewood Lass)
2nd. Kelly Rogers-Davidson – Loveloch Valentino (Dunmar Lyon x Rueberry Funny Girl of Loveloch)
3rd. Andrew Wright – Wadesmill Kite (Wadesmill Sacome x Wadesmill Daffodil)
4th. Trish Constantine – Briabar Flaming Finale (Souter Romulus at Millgreen x Pepsanner Coffee Pot)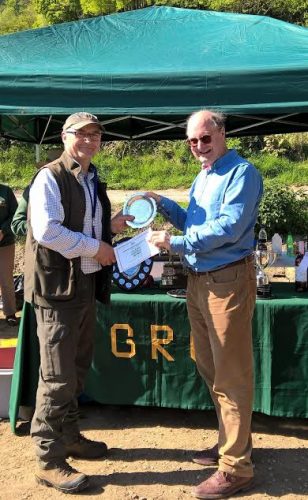 Open winner with Sir Nicholas Mander
Open:
1st. David Godding – Kaliture Cathmor (Echobrook Fergus Mhor of Ashmhorgold x Kaliture Kiche)
2nd. Karen McCarthy – Kaliture Cuinn By Ashmhorgold (Echobrook Fergus Mhor of Ashmhorgold x Kaliture Kiche)
3rd. Andy Fisher – Kaliture Rooster (Echobrook Fergus Mhor of Ashmhorgold x Kaliture Kiche)
4th. Mr & Mrs Shearman – Hickorywood Heart Of Gold (FT Ch Vamp Parsley Pottage x Hickorywood Ruby Sunbeam).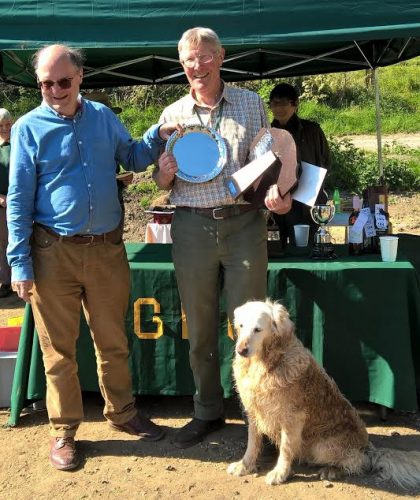 Veteran Winner with Sir Nicholas Mander
Veteran:
1st. Stuart Robson – Haddeo Hermia (Holway Victor x Haremire Diane of Haddeo)
2nd. Dave Barnes – Pepsanner Franconia At Millgreen (Souter Romulus at Millgreen x Pepsanner Black Five)
3rd. Vickie Pritchard – FTCh Vamp Parsley Potage (Birdsgreen Sweet Reward of Castlemans x Welsh Ruby of Vamp)
4th. Dave Barnes – Souter Romulus At Millgreen (FTCh Kessgold Volvo x Deepfleet Anna.
If anyone would like copy of photos used please contact Angie Cooper
Slide Show photos David Roberts              
Slide Show Photos Pam Wooden and Angie Cooper  
ALL AGED STAKE
On Thursday 7th September, 2017
Held at Checkley Wood Shoot, Cheshire.
by permission of Messrs I. & N. Beavis
and support of the Guns.
Judges: K. Bellamy, A.B. Cooper, Mrs G. Caldwell, S.N. McGrath
Result:
1st GATEKEEPER BOYCE DEL HARTLEYJEAN (D) (Joyful Hugo of Philchris ex Ninastirith Tess) Sally Richardson
2nd & Guns' Choice TEALCREEK MISS UNDERSTOOD (B) Froglane Firefly at Tealcreek ex Birdsgreen Egypt at Tealcreek) John Williamson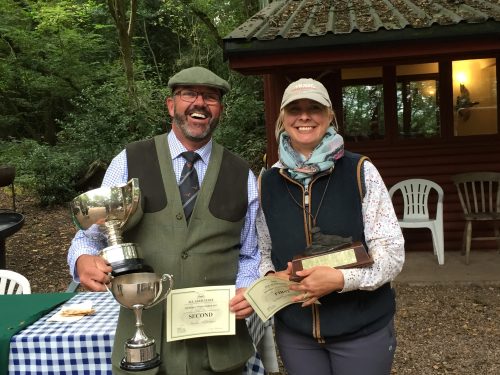 Photo courtesy of Kim Jinks
NOVICE STAKE
WEDNESDAY 4TH OCTOBER, 2017
Maesmawr Shoot, Tonteg. S. Wales.
by permision of Messrs. R.Edwards & E. Davies
and generous support of the Guns
JUDGES:
T. Shipp(A) M.D. Saturley(B) K. Lewis(np) H. Willmott(np)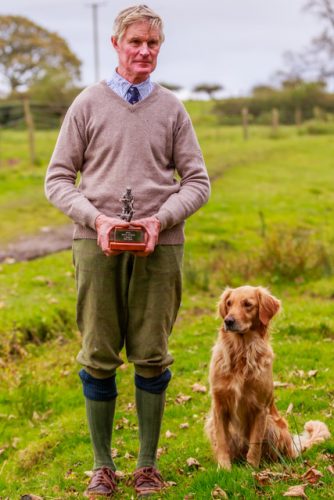 NO AWARDS
GUNS' CHOICE: Robert Atkinson's Salander Angie of Holway
Slideshow photographes of the day by kind perrmission of Graham Morgan, if anyone wants copies contact him  on email: gmo4678698@aol.com     or visit his web site  www.morgoldenretrievers.co.uk  for full details on how to order
2 DAY OPEN STAKE FOR 24 GOLDEN RETRIEVERS
MONDAY & TUESDAY 6th & 7th. NOVEMEBER 2017
AT WINDSOR GREAT PARK, BY GRACIOUS PERMISSION OF HER MAJESTY THE QUEEN AND THE CROWN ESTATE
JUDGES; MR. P.D.BRUTON (A), MRS. G. HILLIER (A), MRS. J.A. RAINEY (A), MRS. A.C. HOGSBERG (B)
1ST. MRS. V. PRITCHARD, VAMP ANGELICA (GORTONS GOLDEN REIN X VAMP PANSY WILD)
2ND. MR. D. HIGGS, ABBOTTSHALL PIONEER OF HIGGSCROFT (ECHOBROOK DEXSTER X GORTONS                  DESERT ANGEL OF ABBOTTSHALL)
3RD. MRS. S. RICHARDSON, FTCh. FRIZELWOOD ODAN OF HARTLEYJEAN (FTCh. VAMP PARSLEY                        POTAGE X MERRYWAY OPIUM)
COM. MRS. M. PALK, TALLYGOLD BLACKTHORN (HOLWAY VICTOR X MERRYWAY LARCH OF TALLYGOLD)
COM. MRS. L. HARRIS, GORTONS BLACKTHORN LAD OF HAWKSTHORN  (FTCh BIRDSGREEN SWEET                   REWARD OF CASTLEMANS X GORTONS GOLDEN REIN).